Data Recovery Privacy Policy - Terms & Conditions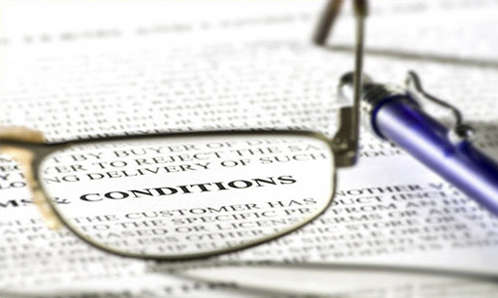 Terms of use & privacy statement
By using any of the services Data Recovery Ottawa provides, the Customer agrees to observe all of the revisions of these Terms & Conditions as they may be in effect from time to time. These Terms & Conditions supersede any usage of trade and control all course dealing between Data Recovery Ottawa and the Customer. Unless contracted by separate agreement, in writing, under no circumstances does Data Recovery Ottawa assume responsibility for the loss of information on the media provided to Data Recovery Ottawa. The Customer agrees to indemnify and hold Data Recovery Ottawa harmless from any claims resulting from the Customer's use of the service which damages either the Customer or another party or parties. The Customer is the legal owner, representative, or otherwise have legitimate rights to the property and all data contained therein sent to Data Recovery Ottawa. The Customer agrees to absolute Non-Disclosure of any information to third parties regarding the case submitted or data received or in case of an error occurred before, during or after the recovery.
Data Recovery Ottawa shall not be liable for any claims regarding the physical functioning of equipment/media or the condition or existence of data on storage media supplied before, during or after service. Data Recovery Ottawa shall not be liable for any claims regarding the incorrect recovery form submission done by the Customer or/and receiving incorrect/wrong media from the Customer. It is Customer's responsibility to make sure the recovery form contains correct information and that the proper media sent in for data recovery services. If the Customer's supplies incorrect/wrong media for recovery services and declines the recovery after it has been performed; Customer is responsible for covering the quoted fees associated with the services. Data Recovery Ottawa is not liable for any direct or indirect damages, including loss of data, loss of revenue, incidental or consequential, before, during or after service.
The Customer authorizes Data Recovery Ottawa to conduct an evaluation of the media sent to determine the nature of the damage and provide an estimate of recovery cost and timing. The evaluation is free (Economy / Non-Urgent Service only) unless otherwise specified, and no work beyond this evaluation will be charged without Customer's approval. While evaluating the media, Data Recovery Ottawa may perform the recovery services without Customer's approval in situations where Data Recovery Ottawa feels that there is only one chance to recover the data. In such situations Customer is not required to pay the quoted amount unless the quote is approved. If the recovery case is refused or cancelled by Customer after its approval, the Customer will be charged 50% of the quoted amount. At that point no data will be returned to Customer. The original media will be returned to Customer only after the 50% payment is received.
Customer's failure to respond to Data Recovery Ottawa seven days after the recovery process is complete, the Customer will be charged full amount quoted plus additional fees associated with the case (media for recovered data, shipping). At that point recovered data will be sent to Customer with original media. Payment is due in full upon completion of successful recovery, prior to release of data. Payments not received within 14 business days of the billing date are to be considered delinquent and may be subject to reasonable collection and legal fees. Returned checks are subject to a charge of $55.00.
Any credit left on file in excess of 30 days is not eligible for cash refund and may only be redeemed for services and the related donor/target media necessary to complete those services. Accepted payment methods include VISA, MasterCard, Bank Wire Transfers, cashier's checks, and company checks. If paying by check, please note that Data Recovery Ottawa has the right to delay the shipment of the recovered data until the check has cleared. The Customer is financially responsible for all shipping costs, custom duties and taxes to and from Data Recovery Ottawa. Due to strict confidentiality, Customer's data will be kept onsite for no longer than 5 business days. It is the responsibility of the Customer to verify the recovered data and notify Data Recovery Ottawa within 5 business days by email or otherwise. Failure to confirm the recovered data within 5 business days is a full responsibility of the Customer. Data Recovery Ottawa shall not be liable for any further claims. It is customer's responsibility to backup the data received from Data Recovery Ottawa. Data Recovery Ottawa shall not be liable for any data loss or disk failure. Data Recovery Ottawa does not offer warranty on hard drives used for providing the recovered data to the customer. Customer is aware that any unclaimed media will be destroyed after 30 business days. Customer is aware of the inherent risks of injury and property damage involved in data recovery, including without limitation, risks due to destruction or damage to the media or data and inability to recover data, or inaccurate or incomplete data recovery, including those that may result from the negligence of Data Recovery Ottawa, and assumes any and all known risks of injury and property damage that may results. Data Recovery Ottawa is not responsible of any and all damages and defects of the property provided by the Customer. By the use of any services provided by Data Recovery Ottawa the Customer accepts the Terms & Conditions of this agreement.
Intellectual Property
Copyrights. All the content of this Website including texts, drawings, graphics, images and photographs is protected, namely under the Canadian Copyright Act. Any unauthorized use of this content, including any reproduction, distribution or redistribution, transmission or retransmission, communication to the public by telecommunication, representation, translation, put at the public's disposal or any download is prohibited without the written consent of Data Recovery Ottawa. Data Recovery Ottawa does not make any statement and does not warrant in any way that these elements do not infringe the rights of another person or entity.
Trade-marks, names, words, logos and illustrations appearing on this Website are or may constitute trade-marks belonging to Data Recovery Ottawa, to another entity of its group or to a third party. It is strictly prohibited to use the trade-marks, logos, illustrations, graphics and trade names contained in the Website, except in a manner authorized by these Terms or upon written consent from their owner.
Subcontractors
Data Recovery Ottawa may hire a subcontractor to perform specialized tasks for Data Recovery Ottawa or on behalf of Data Recovery Ottawa. Subcontractor agrees to be bound by all of the terms and conditions on this website.
Governing Law
This agreement is governed by the laws of the Province of Ontario and the federal laws of Canada, and you consent to the exclusive jurisdiction and venue of the courts in the Province of Ontario in all disputes arising out of or relating to your use of Data Recovery Ottawa services, this website and the materials contained herein. These Terms constitute the entire agreement between you and Data Recovery Ottawa.
Amendments
Data Recovery Ottawa. reserves the right to revise these Terms at any time, subject to applicable law.

*For non-emergency cases only. (Emergency evaluation is from $999.00. Evaluation of RAID emergency cases ranges from $499 to $1,999.00 depending on quantity of drives. Standard evaluation is $100).